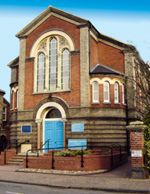 About
Wymondham Methodist Church is located in the Town Green end of this old market town. We warmly welcome people of all ages. Our worship style varies from formal to informal and includes praise and contemplative services. Worship is led by the church's minister and a team of lay preachers and ministers from the circuit. The Sacrament of the Lord's Supper is celebrated once a month.
---
Services
Unfortunately, at the moment, due to Covid 19 we are unable to meet in person and our worship is on line.
In normal times, a warm welcome awaits you at our 10.30am service every Sunday.
---
Contact
Minister: Rev Steve Cullis
Phone: 01953 609106
Email: stephen.cullis@methodist.org.uk
Address: Town Green, Wymondham, Norfolk
Postcode: NR18 0PW
Website: www.wymondhammethodist.org.uk
---
Map
---
Gallery